From the counted cross stitch
Journeys With Jimanie Series
The Gatekeeper's Window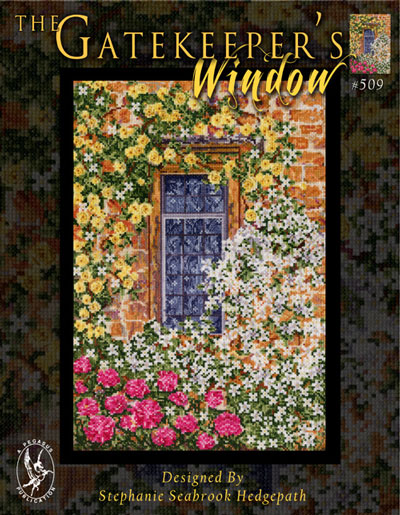 Retail $12.00 -Order
This delightful cottage window was found in Barton-on-the-Heath in England. A villager in another town had suggested to us that we might find scenes worthy of our attention in Barton. The gatekeeper's cottage was behind the wrought iron gates of the Barton estate, which is found on the village green. While we were
taking photos of the homes surrounding the
green, I had a delightful chat with a resident of the house across from the entrance to Barton House. She had a "stand" on the green
with an assortment of items and all proceeds
were going to the church. Her scrumptious coffee cake served us well with our afternoon tea for the rest of the week!
Stitch Count 150W X 219H
---
DOGS, DOGS, DOGS!
If you do not see your favorite dog breed here, please search our designs for your breed.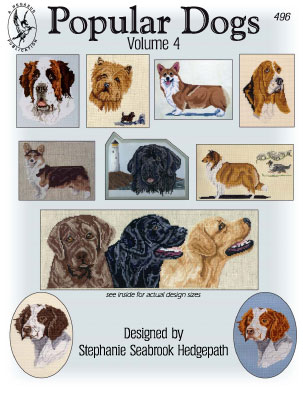 In this great collection, nine of our most popular dog cross sticth designs are back in "Popular Dogs Volume 2". These designs, from previous books, have gone out of print until now! Included are the Golden Retriever, Boston Terrier, German Shepherd, Maltese, Cocker Spaniels, Westie, Shih Tzu, Chuhuahuas and Miniature Schnauzer.. Order
NOTE TO CUSTOMERS OUTSIDE THE USA:
Because countries in the EU and UK and many others now require us to collect and pay VAT and other taxes in order to clear customs all purchases to be shipped outside the USA should be ordered through our ETSY store.
Many of our charts are now available for download in PDF format. Save on shipping and get instant delivery from our ETSY store HERE.
Mabry Mill - Situated on the Blue Ridge Parkway,
Mabry Mill is the most photographed site on the entire parkway.
This is in Spring with the rhododendrons in full bloom
Order printed chart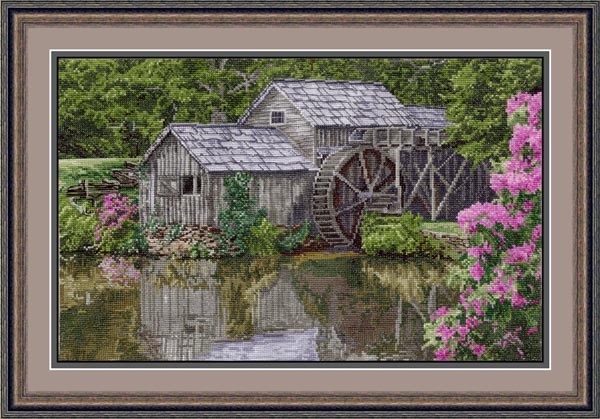 Hydrangea Cottage
One of the delightful cottages we photographed in Adare, Ireland in 2009. It was late September and the Hydrangeas were in full bloom. With the beautiful Irish lace curtains, the Virginia Creeper above the window and door and the bountifull hydrangeas, I knew I had to capture this in counted cross stitch. Cross Stitch chart pack Order