New Cross Stitch Design
The Gatekeepers Window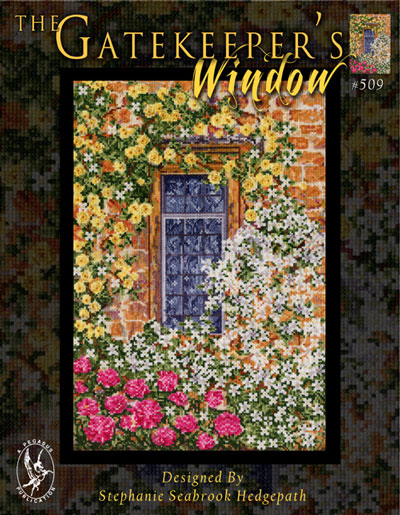 Our newest counted cross stitch chart pack is Shipping now - Retail $12.00 -Order
This delightful cottage window was found in Barton-on-the-Heath in England. A villager in another town had suggested to us that we might find scenes worthy of our attention in Barton. The gatekeeper's cottage was behind the wrought iron gates of the Barton estate, which is found on the village green. While we were
taking photos of the homes surrounding the
green, I had a delightful chat with a resident of the house across from the entrance to Barton House. She had a "stand" on the green
with an assortment of items and all proceeds
were going to the church. Her scrumptious coffee cake served us well with our afternoon tea for the rest of the week!
Stitch Count 150W X 219H
---

Tucked Away Tucson.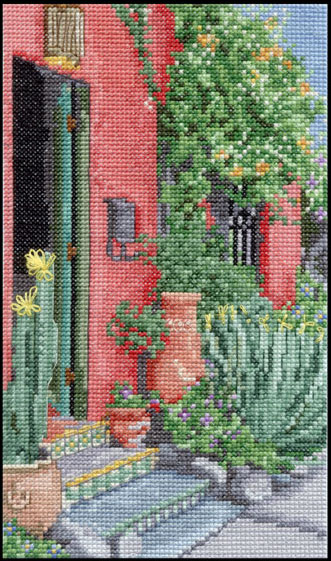 When I was in Tucson to judge a dog show, a "Corgi" friend, Candace Reichard, picked me up from the hotel the day before the show and took me on a tour of Old Tucson. We had a great time taking photos and talking Corgis. The scene created by the entrance to this home is one of my favorites. I love the colors in the tiles and the building's rich hue. The lushness of the surrounding plants added a great touch to the entrance. I hope you enjoy stitching it as much as I enjoyed the day with my friend. Happy stitching! ~ Stephanie
Stitch count is 72W X 125H Order cross sticth chart pack
In this great collection, nine of our most popular dog cross sticth designs are back in "Popular Dogs Volume 2". These designs, from previous books, have gone out of print until now! Included are the Golden Retriever, Boston Terrier, German Shepherd, Maltese, Cocker Spaniels, Westie, Shih Tzu, Chuhuahuas and Miniature Schnauzer.. Order
Hydrangea Cottage
One of the delightful cottages we photographed in Adare, Ireland in 2009. It was late September and the Hydrangeas were in full bloom. With the beautiful Irish lace curtains, the Virginia Creeper above the window and door and the beautiful hydrangeas, I felt drawn to this cozy entrance. Cross Stitch chart pack Order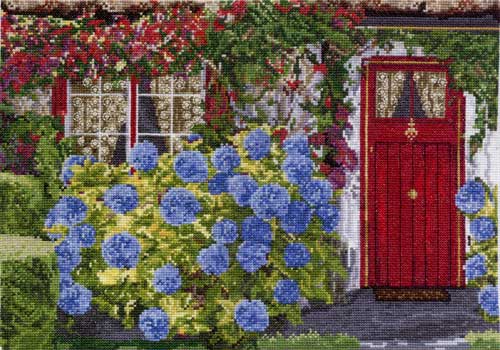 Glenariffe Cottage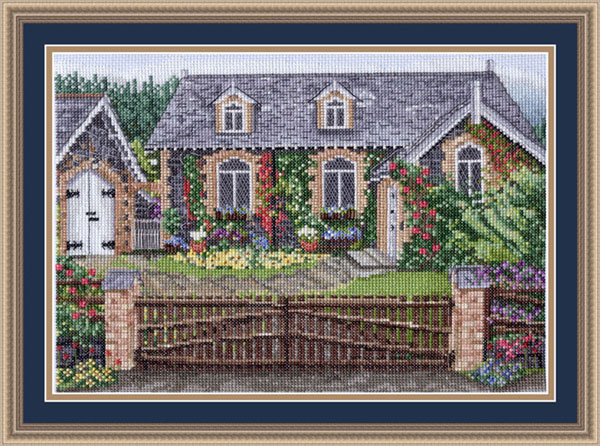 Stitch Count 150W X 117H - Glenariff Cottage was found on a trip to Ireland, where I was invited to judge dogs at the Belfast Dog Show Society show. Many thanks to Caroline Reynolds for suggesting that my husband, Jim take a day to hike in Glenariff Forest, just north of Belfast in Northern Ireland. As Jim made his way from Belfast to the park in County Antrim, he discovered this sweet cottage right on Glenariff Road.
Glenariff Forest is one of the world famous Glens of Antrim, an area to which tourists have
been coming for over a century. Glenariff, called the Queen of the Glens, is considered by many people to be the most beautiful of the nine Antrim Glens. If you ever get a chance to go to Ireland, GO! It is the friendliest place on earth and beautiful beyond words. Order cross stitch chart pack
From the counted cross stitch
Journeys With Jimanie Series
Mabry Mill
Order